Ross Bailey, founder, Appear Here
"I think to talk about pop-ups versus traditional retail is no longer what it is all about," says Ross Bailey, founder of arguably the best known temporary leasing platform, Appear Here.
It's like discussing online versus offline, we can already see that retail has moved forward from that. What we can also see is that there is a need for flexible, pay as you go space. – Ross Bailey
He says that while retailers and brands using the platform have their own, unique reasons for taking temporary space, which are not always about direct revenue, the landlords see very healthy returns. "Transport for London saw revenues up 400% when they brought us in to Old Street station, Shoreditch and at Redchurch Street, London revenue from rents is up 600%," he says. "On average landlords see a 1.4x revenue uplift with our platform."
While pop-up space has been particularly successful in urban locations, Bailey notes that the definition of a "trendy location" is also more fluid and evolving and outlying areas can also become effective retail destinations so long as there is "critical mass" and "enough stuff" is happening.
In terms of capitalising on short-term lets, Bailey stresses that while Appear Here is active across all channels, for brands and tenants, social media is absolutely essential. "It's a vital part of the mix," he says. "It's part of the wider scenario, where retail real estate needs to change."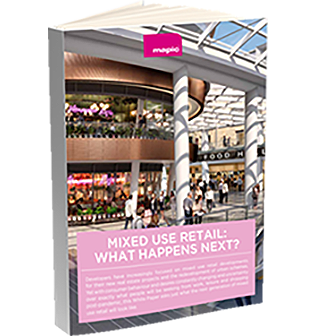 Mixed use retail and leisure: What happens next? – White Paper
Learn about the retail industry's latest data, developments, innovations and projections in our last white paper
MAPIC talked to several companies that tested pop-ups with Appear Here.
Sandra Chretien-Thibaut, specialty leasing manager, Apsys
"We have a strong innovation strategy in all existing centres and our upcoming sites," says Sandra Chretien-Thibaut, speciality leasing manager, Apsys. "We have created a new concept for all the brands that are willing to test with a pop-up. It is called 'Collection by…' and can adapt to all the shopping centres of our portfolio."
At the end of August, Apsys debuted the concept in its Beaugrenelle Paris, shopping centre with Collection by Beaugrenelle, with the brand Le Slip Francais.
"Also, we constantly source new brands, like Rivieras shoes for example, who chose Beaugrenelle for its first pop-up implementation," she says.
She believes that pop-up stores have a double advantage: firstly, they renew the offer at Apsys shopping centres regularly and secondly they create "an animation" in shopping that is distinct from the permanent stores within the centres.
In terms of the types of companies taking pop-up space she says:
We welcome both iconic brands that want to highlight a new collection – for example, Kway – or test a location on a catchment area and younger brands that have not yet created a physical selling point and want to meet their clients, such as Emma&Chloe and IceRoll. – Sandra Chretien-Thibaut
Chretien-Thibaut adds: "Our new concept 'Collection by…' is only a first step. Other innovations are to follow in order to meet the rising expectations and needs of both brands and customers."
Mollie Goddard, co-founder, Desmond and Dempsey
"Around 80% of our sales are online and then we also sell through, for example, US department stores," says Mollie Goddard, co-founder of pyjamawear specialist Desmond and Dempsey. "For us retail has always been really important and we wanted a way of connecting with the consumer and showing landlords that we were not just a nightwear brand and much more about the joy of Sunday mornings."
To do this Desmond and Dempsey took over a pop-up unit in Covent Garden, London for 10 days. "We wanted to try some crazy things and really push the brand out there," she says.
We wanted to bring our ideas to life and as part of that we took a 1,000 sq ft unit at the beginning of this year. We themed it and had lots of events around the senses. We wanted to engage with consumers and also show retailers and landlords what we are all about, and we got some great PR out of it. – Mollie Goddard
It was brand awareness rather than revenue that drove the decision and Goddard says that the company had prepared for periods of low footfall by creating lots of ticketed events, notably what became hugely popular brunches: "Some people stayed for three hours – how else could you get that sort of customer engagement?"
Goddard retains an aspiration to open her own store and says that her only regret is that while the 10-day duration was determined by the budget, it did mean that they could not fully capitalise on the momentum that started to build around the social events as an increasing number of people became aware of what was happening.
"My advice would be to really go for it," she says.
Jamie Bennett, head of showrooms, Made.com
"We have used pop-up locations for anything from a few days to a few weeks," says Jamie Bennett, head of showrooms for furniture and homewares retailer Made. "We primarily use them as brand showcases and with the shorter durations we will have press and Blogger days at the beginning to show our new product ranges. In terms of maximum duration, our showrooms refresh every four to six weeks so it doesn't really make sense to run them for any longer than that."
While branding and awareness have been the main objectives, at Birmingham Made used a pop-up to trial the market and Bennett says it proved good testing ground for the city and also a good way to introduce the brand. Made has since established a showroom in the city.
By contrast, the company has a longer-running pop-up space at Schipol Airport, Amsterdam, which it is due to refresh this autumn. Currently being used as space for people to relax – "it's not unusual to see people laid out on our furniture" – the emphasis of the next iteration will be work space, in line with the "young, mobile working of London, Amsterdam and Berlin," he says.
Bennett adds that the main benefits of using pop-ups have been around creating brand noise rather than revenue and says that choosing and training the right staff is crucial.
It's the people in the stores that really bring the space and the brand to life. Choosing a location is one thing but you need to make sure you have the right people. – Jamie Bennett
Emilie Holmes, founder, Good and Proper Tea
"We took one of the first units offered by Appear Here at Old Street station in Shoreditch," says Emilie Holmes, founder of Good and Proper Tea. Part of a collection of units, based at an underground station that underwent a major repositioning of the retailing by Transport for London, Good and Proper Tea took a "broom closet" to sell tea and a very limited food range, having previously only traded from a street van.
"We had a one-month lease and for us it was to build awareness, have a physical presence so we could show our B2B customers our points of difference [the company has a wholesale business]and to test out a store environment without it being as scary as leasing a shop," she says. Since then the company has established a flagship store in Clerkenwell, London.
"In some ways I don't think I fully appreciated what it taught us as much at the time as I do now," she says.
One of the first things I would advise is that any retailer or brand establishes what it is they want to achieve and how they optimise their environment for that. So for example, if you want to capture emails then establish a store and a reason that encourages people to share their email address. – Emilie Holmes
While Good and Proper Tea is considering opening more stores, Holmes says that the business is also looking at pop-ups as an alternative. "We could open a couple of stores next year, or we could look at, say, three pop-ups during the year," she explains. "Using pop-ups we could trial the dry product [boxed teas], a speciality like Chai and then perhaps near Christmas a gifting concept," she says. "That type of approach also gives us an opportunity to test out how things work and what ideas take-off."
Looking back, she says that taking the pop-up, as much as anything, had the team "buzzing" and put a lot of energy into the business.
Alex Hely-Hutchinson, founder, 26 Grains
"We first started the business with a one-month pop-up at Old Street Station, London, to test the concept, to see if there was anything there and how responsive the market was," says Alex Hely-Hutchinson, founder, 26 Grains. "It turns out a lot of people have a relationship with porridge, love and hate! I realised that breakfast was being left behind in the growth of new restaurants and that there was a market for good quality daytime food."
She says that she tested the company's menu, branding, social media as well as area and location and "with everything I learnt, I went on to open our first site in central London," she recalls, with the company now trading from Neal's Yard in Covent Garden.
In terms of success criteria, Hely-Hutchinson feels the concept met her original hopes, she says. "Yes, in the way that there were some good things and some bad things. Limited menus work best, transparency in the ingredients is important to people, having a personality and sense of accountability is really valuable to customers, particularly when there has been such a growth in chains and big businesses."
She says she would "definitely" continue to use pop-up space:
For the way I envision us growing, it gives us an opportunity to test an area for potential new permanent sites. – Alex Hely-Hutchinson