1. The stores first retailer / Sephora
Perfumes and beauty giant Sephora, part of LVMH, has had a presence in Italy for over 20 years and has around 130 stores, divided approximately equally between cities and malls. Those stores are based towards locations in the north of the country, with a flagship in Milan and a focus on Italy's main cities.
Herve Montaner, European expansion director, insisted at MAPIC Italy that the retailer remains open to both shopping centre and high street locations, with the credentials of individual sites considered carefully.
"In each city we know there will be at least one strong local competitor, so we need to believe the market is big enough, with the opportunity to open large stores and where we can create an environment where people can test and play and get advice.  – Herve Montaner
Sephora now looks for a minimum of 300 sq m, which Montaner said allows Sephora "to play with this difference [compared with rivals]", while he stressed that it is also important for brand awareness, given that Sephora typically has a smaller number of stores than its main multiple retail rivals.
"If we want to be well known we have to create stores that are different," he said. "Also, we are reformatting stores and 'cleaning the network' because we acquired a store portfolio and so have small stores where we are looking to relocate to larger premises within the city."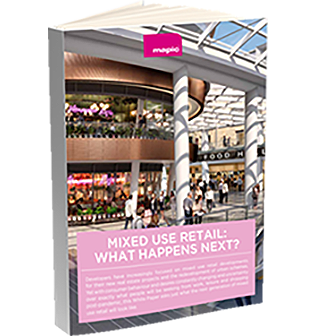 Mixed use retail and leisure: What happens next? – White Paper
Learn about the retail industry's latest data, developments, innovations and projections in our last white paper
Sephora has plans to grow to a total portfolio of about 160 stores in Italy, although there will be wider churn as this net increase will also feature around 20-30 closures and relocations as the retailer creates a modernised estate. The latest store concept, which has achieved a sales uplift of around 20% where executed, will also be rolled out, with sales improvements "much higher than previous upgrades", said Montaner.
The only rule is to be where the customers are," he said. "It can be hard and expensive to find 300 sq m sites in historical city centres, while for malls it has to be a modern centre. For us, the quality of mall and location inside the centre is much more important than the financials alone. I anticipate that we will continue to split 50/50 between malls and high streets. – Herve Montaner
2. The reformatted stores plus online retailer / Habitat
While Montaner conceded that e-commerce sales in Italy are quite weak compared with the rest of Europe, for furniture and homewares retailer Habitat, Alain Houli, Italy manager, said that e-commerce is very important to the company, accounting for 10% of sales.
They complement each other, where we have e-commerce, we record double digit sales growth. The channels support each other.  – Alain Houli
Habitat recently re-entered the "very attractive" Italian market at the City Life development, very close to where MAPIC Italy took place. Operational in 23 countries, with 100 stores, Houli said that Habitat is trying to develop its ideas in the store, focusing on shopping centre locations and also a smaller shop format within cities.
"We have just arrived, so we are developing to create what we want to achieve" he said.
Habitat is looking for sites of a minimum 700-800 sq m, which is already downsized from the previous format which was more typically 2,000 sq m.
We now prefer malls, supported by the web, working for online in Italy, this helps us to choose our strategy on real estate. Just opened in Lyon at 800 sq m with a format identical to the CityLife, Milan store. – Alain Houli
3. The online to offline retailer / Xiaomi
Xiaomi was founded in 2010 by serial entrepreneur Lei Jun, with an aim to offer high-quality technology at affordable prices. Created in 2010 and achieving turnover of over $1bn within two years, the pure player launched in Taiwan, Hong Kong, Singapore, Malaysia, Philippines, India, Indonesia and Brazil, before expanding its footprint to Europe to become a global brand with its Mi products.
Speaking at MAPIC Italy, Francesco Zhou, general manager, MI Store Italia, said that despite originating as an oline retailer, the company now has over 1,000 stores worldwide. "We are one of the few cases where an online company has been successful offline," he said. "We are not just about mobile phones but we are an internet company, offering devices, luggage, household products and so on."
Mi Stores have now opened in 62 countries. Mi Stores opened its first Italian outlet in the Il Centro shopping centre in Milan on 26 May, just a few days after making its debut in Paris.
Our strategy is for mall locations because the model is working in other countries, starting with Spain last year, then Paris, with five stores in each market planned soon. In Italy we envisage opening around 30-40 stores, with the first 10 in the best malls if possible. We're looking at around 200-300 sq m for stores. – Francesco Zhou
Top photo © Sephora