Retail has increasingly become entwined with hospitality venues, integrating with other services, while co-working spaces are looking to retail destinations to entice business.
CO-WORKING: ANNUAL GROWTH OF 25% PREDICTED 
Co-working space is predicted to grow at retail properties by 25% annually through to 2023, according to a report from real estate advisor JLL. Shared office space is expected to account for roughly 3.4 million sq ft of retail space by then, JLL found in surveying 75 different co-working locations at malls, strip centres and within street-level retail shops across the US.
Macerich is the first mall owner to land a multi-property deal with a shared-office space provider. Industrious has roughly 50 locations in 33 cities across the US. Other popular co-working businesses popping up around existing retail centres include Regus and WeWork, which is starting to lease space from Hudson's Bay's Lord & Taylor and which has opened its own 'store' as it expands beyond co-working.
Macerich CEO Art Coppola says his goal is to create "top-tier, built-in amenities for today's professionals" at its malls, which also includes Tyson's Corner in Virginia. Industrious' first mall location is set to open in Scottsdale in January, with a wider roll-out to follow.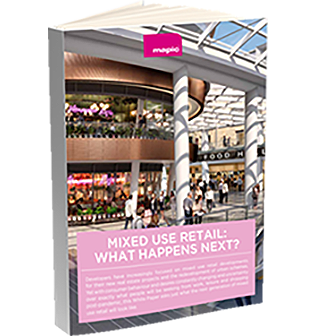 Mixed use retail and leisure: What happens next? – White Paper
Learn about the retail industry's latest data, developments, innovations and projections in our last white paper
Unibail-Rodamco-Westfield and GGP have already started experimenting with co-working in the mall. A start-up called Cowork at the Mall is taking the empty Sports Authority in Chicago's Water Tower Place mall, owned by GGP. In San Francisco, Westfield's Center on Market Street now rents space to a co-working company called Bespoke. In New York, Westfield has brought WeWork into the Fulton Center shops, an extension of Westfield's World Trade Center.
Cushman & Wakefield's European Coworking Hotspot Index has ranked Europe's top 10 co-working cities based on a weighting of elements including scale, business environment, people and catalyst factors.
HOSPITALITY EXPERT INITIATES MIXED-USE PROJECT: M AVENUE, MARRAKESH, MOROCCO
Nabil Slitine, Founder and Managing Director of Downtown Hotel Corporation (DHC Morocco), is the initiator of M Avenue in Marrakesh. The idea is to offer a new mix of residences, hotels, offices, shops, restaurants, and also a cultural centre to make this avenue a sophisticated, modern and cultural downtown.
At 500m long, M Avenue connects the Palais des Congrès Avenue Menara with luxury apartments, aparthotel and 96 Four Seasons private residences, enjoying high-end hotel service. A business district will be added to the project, as well as retail distributed among restaurants, cafes and shops. These will showcase new brands in Morocco, and young designers. The avenue will also host green spaces, a temple of well-being, as well as a virtual exhibition centre.
"The avenue will be private but open to the public, meaning we can close the access to the avenue," says Holger Frehde, Sales and Marketing Manager. "For example, we plan to create an event each semester. A cultural festival, a projection on the avenue … We will therefore have the right to prohibit access to cars during these special events.  Fluidity is paramount."
We live in an age of blended consumption, where people live, shop, eat, drink, work, meet and spend time in many different places – at different times with different people. This transformation impacts on the function of physical spaces, becoming hybrid concepts blending residential, commercial, cultural, institutional, or entertainment uses. Mixed-use has emerged as the new norm for modern development and regeneration.
Learn more about how to blend uses and create lifestyle destinations in order to enhance customers' experience: Discover MAPIC 2019 conference programme "Retail Remixed: Rethinking Places & Spaces"