A move back to physical retail
The so-called "retail ice age", which began in the United States after the economic recession of 2008, has recently blown icy winds across the globe, driving physical retail off the radar. However, in the Darwinian decline of the old retail guard and shopping malls, pop-up stores are emerging as the champion of landlord, brand, and consumer interests alike.
pop-up store
/pop-up stôr/
noun
A short-term retail event or space that can range anywhere from one day to several months, typically located in high foot traffic areas such as city centers, malls, and busy streets. Store rental prices are usually much lower than a traditional store, typically paid upfront. Used to sell or launch products, move inventory, test ideas or locations, create brand awareness, align with holidays or events, and generate feelings of exclusivity.
The proliferation of e-commerce and online sales platforms, and the evolution of a mobile-savvy consumer has accompanied the worldwide erosion of brick-and-mortar sales. However, the shift back toward physical retail is gaining momentum as brands and people long for genuine connection, most notably in the form of pop-up stores, which best build brand-human connections in the digital age.
"Retail trade will remain the glue that binds mixed-use projects together. However, more diverse social and cultural spheres represent alternative, more sustainable and increasingly more relevant attraction vehicles that can directly and indirectly impact overall financial revenue within destinations. Retail destinations that are consciously dedicated to "wonder per square meter" as much as "sales per square meter" will thrive because, in very practical terms, the former has far greater potential to create value in the future." – Stuart Miller, The Business of Fashion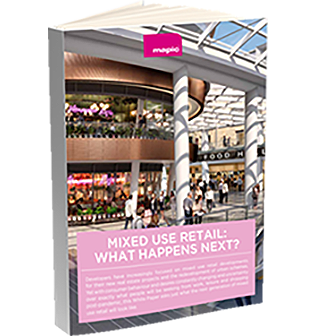 Mixed use retail and leisure: What happens next? – White Paper
Learn about the retail industry's latest data, developments, innovations and projections in our last white paper
The pop-up store trend is in its adolescence, and we are only just now beginning to understand the benefits above and beyond the initial cost savings and flexibility associated with short-term rentals. On average, it costs US $98,000 to open a traditional brick-and-mortar store, and only US $2,000 to open a pop-up shop. With a low overhead, sales margins are greater, and brands are allowed to move more product and test demographics. Fashion retailer Zalora, for example, opened pop-up stores in Hong Kong last year to test the waters without committing to a long-term lease and moved the pop-up store around various shopping malls in the city to maximize exposure.
The numbers surrounding traditional physical retail attest to the need for a new kind of shopping experience. From 2010 to 2013, US retailers saw a 48% drop in foot traffic as once reliable retailers struggled under the weight of high costs, long production schedules, and a new kind of consumer. Given the sharp decline in tourism over the past year, Hong Kong is no longer immune to the retail slump. The retail sector, which heavily relies on tourism spending, is showing few signs of recovery as sales fell by 8.9 percent last June.
It is an interesting time for the Fragrant Harbor as the retail property market adjusts to the sales lows. Commercial landlords are slashing rents on prime shops that would have been prohibitively priced during the market boom, and offering remarkably short tenancy periods to brands that don't cater to their historically high-end shopper. Prior to the market retraction, the standard retail lease period was three years.
In an interview with the South China Morning Post, Michael Chik, managing director of agency Sheraton Valuers, observes, "It is rare to see major retail chains go for a short term, as they usually spend a lot on decoration and take time to recover their costs," noting that "the more flexible lease conditions underline just how cautious the market outlook remains, for both retailers and landlords."
Luxury retail rents in Hong Kong are forecasted to decline 20 percent between now and 2017, and larger spaces for mass retailers could drop 10 percent in rent during the same period. Some short-term leases for ground level units are being signed for as much as 50 percent less than long-term contracts. A trend toward short-term agreements may presently be an uncomfortable shift for landlords, but pop-ups may prove to be more than a ship to weather the current storm and simply cover vacant spaces, but rather a vehicle for re-energizing future retail.
It's not only fashion brands that are pop-timistic about the future of short-term retail and winning consumers' hearts and minds. In the US, auto brands like Tesla are taking their showrooms on the road and in Europe well-known grocers like Lidl, Tesco, and IKEA have launched pop-up restaurants. This summer, Nike, Hong Kong and Havianas launched Pop-Up Stores in Kowloon and Causeway Bay to great acclaim and never-ending queues. Heineken even took to the streets with Hong Kong's first mobile pop-up bar in a double decker Ding Ding tram. Suffice to say, Hong Kong is ripe for the creation of "wonder per square meter" and need not only ride the pop-up trend, but propel it. If successful, the city will uphold its rich cultural reputation as the innovative, cosmopolitan gateway to Southeast Asia… and the retail sector will see the Honkies flow in proportionately.
---
Don't miss Storefront in their panel discussion at MIPIM Asia, Online to Offline / Offline to Online 29 Nov 2016, 15:30 – 16:30