Manuela Calhau clearly believes that we are on the brink of change, and big change at that. Currently the innovation & IOW director at Portuguese developer Sonae Sierra for Europe and new markets, plus a board member, she is also a visiting faculty member of the Lisbon MBA, a joint-venture between two top European business schools based in Lisbon – Nova SBE and Catolica-Lisbon – provided in collaboration with MIT Sloan.
And the discussion makes clear that she strongly believes in mentoring and positive action, both to redress the gender imbalance and to help companies innovate at a time of profound change.
Calhau describes the current situation as a "triple crisis" of hygiene, economic, social "together with a traditional shopping centre business model that does not work any longer and e-commerce speeding up very rapidly and becoming dominant in some categories and segments. An explosive mix."
She says the need to innovate with more agility and innovation is now of paramount importance and describes Covid-19 as a catalyst for e-commerce and digital in general, home working, health and wellbeing, delivery services and a reduction in fashion consumption.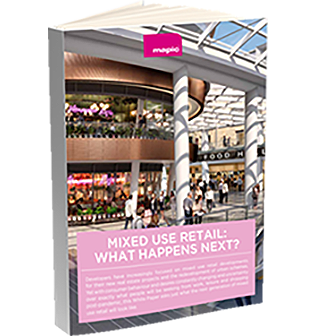 Mixed use retail and leisure: What happens next? – White Paper
Learn about the retail industry's latest data, developments, innovations and projections in our last white paper
"It has also been a disruptor in other areas: a low touch economy, a huge decrease of some categories, booming up until now, such as tourism and travelling, F&B, cultural and leisure events," she says.
I personally think that the post-Covid world will be a different one. With the 2008-2012 crisis so much has changed. So just imagine with this, much bigger, one! says Manuela Calhau, Sonae Sierra
She simplifies it to several key areas: hygiene level – assume safety and hygiene as new, differentiating experience layers; social level – deploy differentiated visit experiences in a 'low touch economy' era, adding content to the mall's public spaces; defend the leisure side of the shopping and leisure destination value proposition; economic level – pursue a convenience-plus-accessibility driven concept by aggregating cross-category shopping motives, logistic layers and infrastructure.
We also need to redefine logistic paradigms and infrastructure, enhancing B2B value propositions and adapting business models to fit new categories such as services plus healthcare and co-working, and implement multi-use mixes to increase resilience and cope with shorter life cycles of innovative retail, she says.
The path to retail real estate
Calhau was not always in real estate. She was an executive committee member of Portuguese telecommunication operator Novis Telecom and a director at Unicre, the leading credit card in the Portuguese market at that time.
"I had my first experience leading teams with McKinsey & Co," she recalls. "In addition to having the opportunity to work in several sectors, from FMCG, retail and banking and financial services, I also led the sales effectiveness centre of competence at the Iberian level."
Calhau joined the real estate sector in 2008 as European marketing director of Sonae Sierra, extending her responsibilities to the commercial area (mall activation), the market Intelligence and strategy department and the innovation office. In 2019, she was invited by the CEO to lead the new and enlarged innovation office and the improving our work department.
She has also held prominent roles at the International Council of Shopping Centres, namely during 2017 as chair of the ICSC European Marketing Group, and from 2014 until 2016 as chair of the Solal Awards and a member of the ICSC Advisory Board. During the past few years she has been active with the Catolica-Lisbon and Sonae Sierra's mentoring programmes.
Women in retail: Gender balance
"To be honest, personally I have never experienced any gender-related discrimination, positive or negative. And I am proud to be part of a company that works for gender equality, that walks the talk, with policies and programmes designed with that objective," says Calhau.
But much has still to be done. I do think that gender equality is also a business issue – how can we lead, innovate, surprise, if you are lacking diversity, including gender diversity? And this gap increases with seniority: society is lacking women among the top management, both in executive and non-executive roles, she says.
Calhau believes that to minimise these gaps, policies and programmes must be in place to help balance between work requirements and private life, such as flexible working schedules and working from home arrangements, adding that policies such as addressing leave of absence or part-time can also play an important role.
"I have also to confess that I have changed my mind concerning minimum quotas for women at top management positions. I am now convinced that they are necessary if we want to minimise gender inequality in the near future," says Calhau. "But what I want also to underline is that it is very much the way we, women and men, build and use options that make a difference. Many of the initiatives I took were not successful, but some were. And I keep trying to learn more, to experiment and dare to do new things, professionally and personally."
By way of example she points out that she was the first Portuguese woman to join McKinsey & Co worldwide as a consultant (until then, Portuguese women only had back-office roles), and enrolled in the first part-time programme for McKinsey in Iberia, which she designed herself, and got approval for, when her first daughter was born. Since then, Portuguese women have become McKinsey partners, and many consultants, of both genders, have participated in part-time programmes.
"Years later, after complaining about the weak relationship between business schools in Portugal and the corporate world, I proposed, designed, and implemented a business cases programme for the Lisbon MBA," she says. "This course has run successfully for ten years. I am now a member of the 101010 Foundation that supports Ecole 42 in Portugal – a computing programming school with a revolutionary learning method of zero classes, zero teachers, zero tuition.
My message to you all is: sit at the table. Do not allow yourself to be left behind, or worse, do not put yourself behind, says Manuela Calhau, Sonae Sierra.
Read about 21 women leaders in retail in this article, and also an interview with Erika Le Noan, Dammann Frères.