The SNELAC (for National Union of Leisure, Attractions and Cultural Sites) is a professional union created in 1983 to gather all leisure and cultural sites receiving a family audience in a closed and furnished area in France. With a wide variety of entertainment venues among its about 500 members, it has a global and transversal vision of the French leisure market and a great expertise in the businesses it generates. Between an ever-increasing public expectation and operating conditions made complex by the health situation, Louise COT, communications officer, gives us the SNELAC's valuable analysis of the news in the sector in this turbulent year.
FFC : With more than thirty years of existence and hindsight, what would you say about the development of leisure places market in France and what they represent to the public?
LC : The leisure places market is young and dynamic. It experienced strong development in France at the end of the 20th century, to the point that our country is now the leading European destination in this area. Before the arrival of major operators in France at the end of the 1980s, the profession was carried by passionate and daring entrepreneurs who built the first leisure sites in France.
The opening of Eurodisney in 1992, preceded by Futuroscope (1987), Puy du Fou and Parc Astérix (1989) accelerated the development of the leisure places market both in terms of supply and demand. Pushed by these majors, site visits are exponential, rising from 3 million visits per year in the 1980s to 30 million in 2000. Snelac members received 63 million visits in 2019.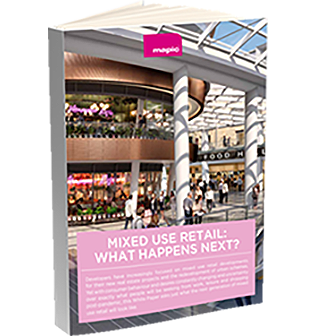 Mixed use retail and leisure: What happens next? – White Paper
Learn about the retail industry's latest data, developments, innovations and projections in our last white paper
During the 2000-2010 decade, cultural sites and leisure venues market continued to develop their offers through massive investment in new attractions, exhibitions, shows, collections and events. As such, they become sources of growth for the territories. They attract tourists and visitors, create permanent and seasonal employment, and provide work for local businesses.
Since the 2010s, French leisure industry have been refining its model. By generating significant revenues, they attract European investors such as Compagnie des Alpes, Aspro Ocio, Parques Reunidos, and Culturespaces. Many leisure and cultural sites are becoming centers of attraction at a regional level and are participating in the transformation of territories.
For example, Le Pal, both animal and amusement park located in Auvergne, will open a new safari themed hotel with 60 family suites next April to increase its accommodation offer. A direct investment of 15 million euros but also other long term economic benefits for its territory.
As a kind of refuge, leisure and cultural sites play a role of social catalyst: families come to have a good time there, diverting them from their daily lives. Today, France is the leader in leisure parks in Europe, 5 sites are among the top 20 European theme parks according to Tripadvisor® rankings.
FFC : The year 2020 will remain marked by the covid crisis and its impact on our lifestyles. Under what conditions can the French leisure industry, despite necessary sanitary measures, keep its promises by offering the public a break from reality?
LC : Safety and security has always been a major priority for operators, and this long before the appearance of COVID-19, because they constitute both the conditions of the visit and a foundation on which the visitor's trust is built. Whether it is the level of reliability of the facilities or the safety at the site, entertainment companies have always taken responsibility to provide a visitor experience with the least risk. Operators of the French leisure market are specialists in flow management. They were able to readjust their offer in accordance with a strict health protocol and adapt the visit route according to the context and health measures.
Today at Parc Astérix, near Paris, all attractions are open. Only indoor or street shows are not performed. In the park, a marking on the ground allows physical distancing while queuing, hydro-alcoholic gel is widely distributed and cleaning is reinforced. The mobile application allows for free, in particular, the reservation of catering and certain rides (the "Filotomatix" service, named with the famous Gallic humor). Visitors are only asked to wear a mask from the age of 11.
Our daily life is punctuated by stressful activities that affect even the youngest. Adults have their professional obligations, their parental duties, everyday tasks and other things to worried about. Entertainment is a real way to clear its mind and to take a fresh restart afterward. This is why today it has become a need among the population. Providing a secure environment for marveling and dreaming with family or friends is in the DNA of cultural sites and leisure venues market whether there is covid or not.
FFC : The most developing part of the leisure venues market in cities or retail spaces, seems to be indoor single-activity brands (escape game type, climbing, virtual reality, trampoline parks, etc.). In your opinion, is this likely to introduce other forms of urban entertainment? Larger or more mixed?
LC : Our society is structured around leisure. Leisure has a social function that is often little known or little considered: entertainment is a social break and a way to take a good breath. It does not allow one to withdraw from the world, but to give oneself time to fulfill oneself and to be more able to face life's challenges with serenity. The Shopping business suffers from competition from online shopping platforms. To attract crowds, the model must be redesigned around the experience. This is why getting inspiration from the leisure places market is becoming an essential element in projects to create successful shopping venues. To attract new customers, retain and keep visitors back and extend their duration in shopping centers, leisure are the new brands seriously considered by shopping centers.
In fact, spending has changed slightly over the course of economic and technological societal transformations, spending on housing, communication, digital products and leisure has increased compared to the expense of food and clothing.
People have now more and more free time, in particular due to paid holidays. The increase in free time has given rise to French industry market which is dedicated to the occupation of this time. Commercial spaces invest this free time by offering a shopping offer.
Shopping centers tend to respond to these challenges but are faced with growing competition which encourages them to reinvent themselves, to diversify their activities, and to go beyond their primary function. Thus, in order to be more attractive, more visible, and with the aim of expanding their catchment area, shopping centers business have gradually adapted their spaces to welcome the leisure places market.
Leisure therefore represents a real importance in the development or refurbishment of shopping centers and it is implemented by leisure professionals who know how to entertain and generate emotions in their visitors.

Each year, parks from the French leisure industry invest between 15 to 30% of their turnover in new products which appeal visitors and retain them. It is therefore essential to offer something new to improve the individual customer experience. More and more projects are emerging!
The place of indoor multi-activity amusement parks is already very popular since a concept like Kidzania is very successful. This is an indoor leisure park shaped as a mini city for children from 4 to 14 years old which offers, during a 4-hour experience, role-playing activities in real life by combining learning and entertainment. An English version of this park was established in 2015 in the Westfield London shopping center. In France, this is for example My Dreamland park, a new concept of an indoor play park that promises to bring together and entertain all members of the family around unique moments, located in the Oseraie Commercial Zone in Osny, opened in September.
Click these links to learn more about the impact of covid on leisure and attractions, about leisure destinations and the time to collaborate and disrupt, and about the future of leisure retail and tourism post covid 19.