How institutional investors are reconsidering their schemes and moving from pure retail to mixed use and diversified portfolios was the main theme in a digital panel debate on 8 July, in a session dedicated to the repositioning of major projects as part of the build-up to MAPIC 2021.
This online event also provided an exclusive opportunity to discover how some of the key investors are considering how to future-proof their mixed use investment property at MAPIC 2021, which takes place in Cannes, France from 30 November to 2 December this year.
Speakers included Fabrice Lefevre Sory, senior VP, alternative assets, Natixis Investment Managers; Carl Strufve, director, Nordics, Grosvenor; plus moderator Chris Igwe, CEO, Chris Igwe International.
The session focused on the changing nature of retail investment solutions and the push towards mixed use investment and redevelopment, although the panel warned that while diversification may mitigate asset class cycles, it also requires more intensive management and a greater knowledge across a variety of real estate categories.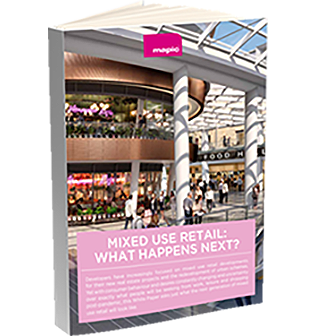 Mixed use retail and leisure: What happens next? – White Paper
Learn about the retail industry's latest data, developments, innovations and projections in our last white paper
Chris Igwe, CEO, Chris Igwe International, set the scene as moderator as he pointed out that the various players in the chain are running at different speeds: "On the one hand, if you look at the speed at which changing is happening, you have the banks at one end who are perhaps not moving, maybe they are observing, maybe they are concerned. And then at the other end you have the consumer, she is changing in a very fast manner. And then the retailer and the investor somewhere stuck in between that, let's say movement, that is taking place," he said.
Carl Strufve, director, Nordics, Grosvenor, added: "My initial sense is that we are living in a world that is rapidly changing as you just described and the future is not what it used to be. But it shows the importance of moving forward and adjusting and working in a different way and in a more innovative way than in the past."
The role of mixed-use investment property
Fabrice Lefevre Sory, Senior VP, alternative assets, Natixis Investment Managers, was quick to point out that it is key for investors to understand why they are adopting a mixed-use strategy.
"The interest of mixed use is clearly to diversify your portfolio and to your points if there is a switch in between the different asset class, one is in a certain point in the cycle, the other one is in a let's say, in a more challenging time period, the fact to be diversified and to have these mixed use projects gives you some indication that you will be able to overcome the difficult time period I would say," he said.
However, Strufve said that investors and developers need to be aware of the hard work involved in operating a mixed use location effectively, pointing out that investors could no longer rely on long-term experience in just retail, for example, but require greater expertise across asset classes and a more collaborative approach.
"You have to actively work with your asset and make sure it is aligned with the market," he said. "Working with mixed use, you need to know a lot about a lot of different classes and work closely with experts and municipalities."
Retail investment solutions and logistics
Sory said that he believed the line is blurring between different asset classes and that many investors are in "wait and see mode" but described the situation for retail and mixed use as a "very exciting time period".
Pointing to the fact that logistics and industrial have become a mainstream market, he said that despite the increase in pricing for logistics assets, such facilities are still in the scope of any institutional investors.
"From an investor perspective mixed use offers different benefits. Diversification, in the current climate, this could reduce the investment risk," he said. "In mixed use we can foresee more of an embedded logistics offer, with logistics, with pick-up and delivery and offices related or not to the occupier. And on top of that if you have 100,000 sq m say then – if there are employees still based in the business – they will need F&B. But I am not so sure we will see cities based around a logistics centre."
Looking away from the logistics sector, he said: "For opportunistic investors, there's hospitality. We haven't seen the current prices for a long time. I would definitely have an eye open on hospitality at the moment, as we see investors in Europe and Asia become more interested, largely on an opportunistic basis."
Residential and F&B opportunities
Strufve noted that in Scandinavia, as in many parts of Europe, the residential sector is performing very well and has been doing so for quite some time. He said that this has accelerated during COVID.
"There is a strong interest in logistics, globally and across Europe. What we do see in almost all of Northern Europe is a very strong interest of commercial services buildings – schools, police stations, prisons. Buildings with long leases," he said. "We see F&B as a key part of the offer and a larger part of the spend of the consumer. The reason for caution is that it comes with challenges because you need to market it well and you have to have the right offer. And you have to have the right volume, so you have to work with the scene and ambience and total offering."
From pure retail to mixed use: How investors are diversifying their portfolio is available on-demand and is part of MAPIC's overall theme for 2021, People and Places: A New Chapter, which will bring together MAPIC, LeisurUp and The Happetite. It is part of a series of digital events, which will provide valuable insight on a range of topics and trends.
MAPIC, LeisurUp and The Happetite will be held together at the Palais des Festivals, Cannes, France from 30 November to 2 December.
To view the panel session click here
Read also about european shopping centres st. james quarter opens in edinburgh and mixed use retail what happens next.