Where once retail expansion was about gaining footprint as aggressively as possible, today expansion is more often designed primarily to complement online activities. Both traditional and online retailers see the value of the store for delivering a physical experience and presence that helps to boost customer loyalty across all channels.
This is particularly evident in the beauty sector, where creating the "wow factor" is key. Last month luxury department store Harrods opened two 23,000 sq ft stores dedicated to beauty in the UK. The H Beauty stores in intu Lakeside, in Thurrock, east of London and in Milton Keynes, north of London, include a blow-dry bar, make-up play table and cocktail bar and are evidence of existing retailers looking for exciting new formats.
Home and body cosmetics brand Rituals is also on the expansion trail — with new stores, relocations and a new superstore. The House of Rituals experience store will be around 3,000 sq m, situated in the heart of Amsterdam and open at the end of 2020 to celebrate the brand's 20th anniversary.
Rituals operates around 800 stores in 30 countries and 2019 saw its debut in Asia, with three stores in Hong Kong. Next year 120 stores will open, including the first in Singapore, Italy and Poland.
"Our biggest expansion will be France, where we plan to open 25 stores, and Germany with 28 new stores," director of real estate and expansion for Rituals, Jan Eising, says.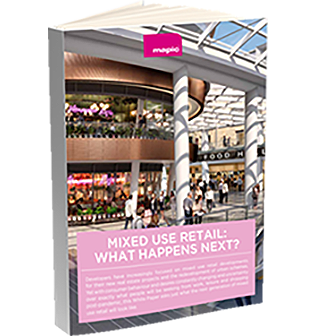 Mixed use retail and leisure: What happens next? – White Paper
Learn about the retail industry's latest data, developments, innovations and projections in our last white paper
The company will also relocate 60 stores to increase footprint. Standard stores are around 90 sq m, and Premium stores are double or treble the size at 200 to 300 sq m. The first two Premium stores opened in 2018, with three more openings in 2019. Up to eight will open next year. "With more selling space people tend to stay longer," Eising says.
Alongside the expansion of old favourites, new brands and retailers — including those born online — are also realising the continued value of the physical store. Amazon is the biggest example of this with its Amazon Go stores in the US and its clicks-and-mortar format, launched in the UK in June, allowing smaller online businesses to sell through a physical street presence for the first time.
Pop-up stores often work well for brands making their physical debut. English all-natural male grooming business Scrubd sells online and through wholesale stockists such as Beauty Mart and Wolf & Badger. The business expanded to five markets in 2019 including France, Germany, Hungary and most recently the US and is now on the hunt for pop-up space, ideally in London and New York.
"We've been concentrating on getting the business ready for expansion, so in 2020 we feel ready to try out our first pop-up stores, either through store-in-store or standalone," Scrubd chief operating officer Darren Williams says. "This small, flexible short-term space will allow us to try physical retail and see how our customers interact with us in person."
US shirt retailer Untuckit, which originally launched in 2011, is also testing new markets. It has around 80 stores in the US and Canada and opened its first stores in the UK in November in London's Covent Garden and Westfield London, part of a wider planned European expansion.
The Untuckit London stores are around 1,600 sq ft and offer a range of men's clothing as well as whiskey tastings. Untuckit founder and executive chairman, Chris Riccobono, says the business encourages an omnichannel approach. "We call it omni-convenience and it's basically being able to buy in the most convenient manner for the person who's buying. The stores are pressure-free environments that support and expand our online sales but allow men to see and touch the product as well as finding their size."
In fashion, the ability to look, touch and try product continues to support expansion, often supported by in-store technology to enable endless aisles and other digital services. This is a focus for Inditex, which has more than 7,000 stores in 96 international markets and continues to expand.
At rival fast-fashion retailer H&M Group, a net 120 stores opened in 2019 across the group as it continued to optimise its portfolio. In September the company debuted in Belarus, the company's 73rd international market. It will also debut in Tunisia this year.
New formats continue to emerge. H&M is trialling product rental in its newly refurbished Sergels Torg store in Stockholm, Sweden from the end of this month. The store will include a curated assortment of products, beauty bar and cafe concept It's Pleat.
In October H&M opened its first "hyper-local flagship store" Mitte Garten in Berlin. At 300 sq m it's one of the smallest stores in the group, comprising a curated collection of womenswear from H&M as well as selected external brands, mostly Berlin-based, complemented by a digital tool offering the company's full range. "It's a test for us as a global retailer to elaborate around how we can be more personal and locally relevant," business developer at the Laboratory H&M Group, Anna Bergare, said at the launch.
At the other end of the scale, the world's biggest Primark opened in England's second city, Birmingham, UK in April. As well as shopping, the 14,800 sq m, five-floor store offers hairstyling, dining — in one of four locations —and manicures.
According to the company: "Research shows that consumers increasingly prioritise shared experiences over physical purchases, and with the high street facing a fierce challenge from online retailers, this store provides a bundle of fun things to do and share."
At vaping retailer VPZ, stores are at the heart of the brand. VPZ hopes to expand to 300 stores in the UK over the next three years in prime high-street stores of 800 to 1,200 sq ft, tripling its store count since 2018 before an expansion into Germany, Sweden, the Netherlands and other European countries. "Retail is changing but good service and well-designed stores will continue to be what makes retailers stand out," director of manufacturing and compliance at VPZ, Doug Mutter, says.
The VPZ business model looks to combine staff knowledge with service to help customers give up smoking for good and so a physical store is essential. "Our high-street stores are the heartbeat of the VPZ company and our prime focus for growth," Mutter says. "Customers are not only looking to make a purchase, but they are also looking for advice and knowledge to ensure they are making the correct selection which is key to the customer switching completely and successfully giving up cigarettes."
The reliance on the store model is also important for the discount sector whose business works less well online. Primark's continued expansion and new superstore is evidence of this. The retailer opened 14 stores globally in 2019 and has 19 more planned for 2020, adding a net one million sq ft of selling space, including relocations and extensions. Primark now operates more than 370 stores in 12 countries across Europe and America. It debuted in Central Eastern Europe in Slovenia this year and will launch in Poland next year.
"Looking forward, France, Italy, Spain, Eastern Europe and the US provide the most significant prospects for further growth," the chief executive of Primark parent ABF, George Weston, said in the company's latest results this month. Major new stores will include Paris Plaisir, Lens and Calais Cite Europe in France, Milan Fiordaliso in Italy, Barcelona Plaza de Cataluna and Seville Lagoh in Spain and Trafford Centre in the UK. Two further US stores will open in the new financial year, at retail and entertainment complex New Jersey American Dream and Sawgrass Mills, Florida."
Among the discount grocers, there is much expansion too, especially as companies fight it out for market share. Aldi is on the hunt for 50 to 5,000 sq m stores, particularly in Western Europe and France. It is investing £1bn in 2019 and 2020 in the UK, with plans to double store numbers inside the M25 from 45 to 100 and operate more than 1,200 stores in the UK by 2025. It also launched the Aldi Local format, around half the size of standard Aldi stores, in seven sites in London this year.
Lidl, meanwhile, which has 760 stores in the UK and around 10,800 stores in 29 countries across the world, wants to double its portfolio in the UK and has announced a £500m investment over the next five years to open more than 40 new stores in the capital.
The mix may be changing but the store certainly still has its place.
TOP PHOTO: The world's biggest Primark opened in Birmingham, UK, in April