Despite the unprecedented challenges facing the retail industry, global retail sales proved resilient in 2020. Consumers shopped online in ever larger numbers, an acceleration of a pre-existing trend. According to Deloitte, the first half of 2020 saw five years of growth in online retail market share in a matter of weeks. Even when non-essential stores reopened, footfall has been generally down on 2019, albeit that numbers and patterns are patchy.
Shoppers are, by and large, shopping less frequently but with more purpose – so visits are down but basket size is up. This is perhaps inevitable. After over a year in lockdown or living under restrictions, people are bound to feel more cautious as they re-engage with their previous lifestyles.
Meanwhile, leisure operators in many countries are having to operate at reduced capacities in order to meet pandemic-related requirements for health and safety. This means new ways of doing things and of creating financially viable models to meet the new realities create because of COVID.
The question for the retail and leisure industry is what sticks and what changes.
Our special report looks at the latest picture for retail, food & beverage and leisure and includes case studies on the expansion of the new and enlarged flagship for premium cycle brand Rapha in London and the opening of the first Time Out Market in Dubai as the publishing business continues to grow its brand and global reach.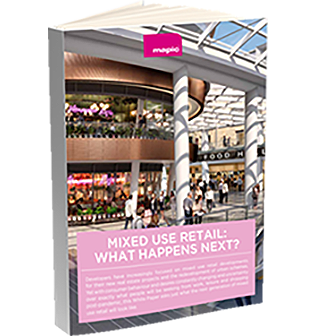 Mixed use retail and leisure: What happens next? – White Paper
Learn about the retail industry's latest data, developments, innovations and projections in our last white paper
MAPIC also has a full interview with Didier Souillat on the growth of Time Out Market.
There are so many established and new F&B and leisure brands trying to expand and look for new positions in their sectors that it is impossible to cover the market in-depth. For our special report Thomas Rose, co-founder of consultancy P-Three, picks out a few of his agency's top leisure operator tips for 2021 and beyond.
He says that while the COVID pandemic brought a crashing halt to all leisure and F&B businesses across Europe, with one eye to the future many leisure sector businesses and F&B operators have stayed resilient through the difficult period and a number are primed for growth as we start to move out of the worst of the COVID impacts.
His leisure operators around Europe to highlight include:
Diageo (UK)
While not a traditional leisure operator within leisure sector spaces, the powerhouse behind beverage brands including Guiness, Ciroc, and Gordons have acquired a former department store in Edinburgh, Scotland for a Johnnie Walker whiskey experience centre & visitor attraction. Could we see more of these venues across major cities in Europe? I don't see any reason why not.
Gravity (UK)
Gravity started life as a trampoline operator but has morphed into an active entertainment venue operator. Its latest venue in Wandsworth, London takes on a former department store of 8,000 sq m and will include Japanese E-karting area, a street bar and noodle kitchen, a New York-themed restaurant, 14 full-length bowling lanes, urban street golf, e-sports, digital darts, sports bar, pool and live music. Quite something. It has well publicised plans to expand across Europe and is growing fast.
FlightClub (UK)
Flight club can only be described as a phenomenon. Who would have thought darts would be the secret to success? We are fans and given its success pre-COVID it meant it could weather the storm and come out fighting. Flight Club is already open in the US and is looking to expand across the major markets in Europe in 2021/2022.
Atelier Des Lumieres (France)
This digital art gallery only has one location (Paris) but the concept is sure to catch on. Seeing exhibitions such as Van Gogh, the starry night covering floors, walls and ceiling is an incredibly immersive way to view art. With over 1.2 million visitors in its first year the venue has proven success and will expand into other principle global cities.
For the full list of upcoming leisure brands expanding in Europe, download the full report by filling out the form on the right =>
You may also want to read a 2-part article on how COVID helps evolved the relationship between leisure and retail: part 1 here and part 2 here.