For someone who is drawn to the entrepreneurial world, Anne-Sophie Maisonrouge has a very long CV dotted with some of the major names in French retail and leisure. Having graduated from HEC School of Management in Paris, she cut her teeth at Pierre et Vacances Center Parcs Group, worked as asset manager for Unibail-Rodamco [as was]and spent seven years establishing the property management arm of developer Altarea.
Yet for all that, running her own business was clearly never far from her mind. Upon leaving Center Parcs she spent two years running her own toys importer and, more recently and for the past 17 years, she has been the founder and president of Terranae, a property, asset manager and marketing company specialising in commercial real estate – notably shopping centres, retail parks, buildings and portfolios.
In that time, she has built it from a handful of staff to 60 and worked with a notable roll-call of major European investors and developers to now manage 27 shopping centres and galleries plus 41 retail parks, and over 1,300 leases. Clients range from family offices to Unibail-Rodamco-Westfield, include German funds (Union Investment Real Estate, CommerzReal), plus Primonial, Frey, Ascencio, Tristan Capital, Meyer Bergman, Redevco, Schroders, AEW Ciloger and more.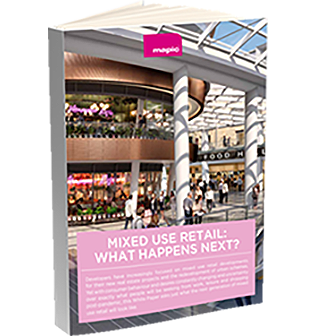 Mixed use retail and leisure: What happens next? – White Paper
Learn about the retail industry's latest data, developments, innovations and projections in our last white paper
"When I graduated from HEC I knew I didn't want to go into a big global corporate company," she recalls. "I ended up at Center Parcs, managing construction of a new centre in the French Alps and telling these very experienced builders how to do their jobs. It was pretty funny and I remember going to Fnac after a week and buying every construction book I could find."
After running and selling her toy importing business she was invited to join fellow HEC graduate Guillaume Poitrinal at Unibail, where she spent a year "falling in love with the shopping centre business", though her preference for less corporate environments saw her join up with another HEC alumni, Alain Taravella, after selling the Altarea founder four French shopping centres.
"Altarea was a much smaller business back then and I spent seven years building the property management side of the business," she recalls. "I really liked it and I really enjoyed retail. That time was a lot of fun."
However, Maisonrouge's desire to start up her own venture once again led her to branch out on her own, this time with the creation of Terranae in 2004, established to help asset manage shopping centres and, increasingly, retail parks. In evolving the business, it has also extended to have around 40% of its clients from outside France, notably from Belgium and Germany, in what Maisonrouge describes as "long, stable relationships". Internationalisation also means the company has an in-house teacher for English for all of its staff.
Of course, the past 12 months may have felt long but they have been anything but stable. The company's increasing portfolio of retail park projects has proven helpful, given that most have been able to remain open during the various lockdown rules. And Maisonrouge remains hopeful on the one hand for retail prospects, and on the other for her business, as the economy emerges from restrictions at some point this year.
My first hope is that people will want to go out and have dinner, and shop, and spend. There is something like an estimated €200 billion in extra savings in French people's accounts and we hope for the retailers and restaurants that people choose to spend some of it and enjoy themselves.
However, she remains realistic over the prospects for the retail sector, especially as and when government support is withdrawn. A challenging past 12 months could yet prove much more challenging for many businesses who have only just survived up until now, she fears.
We have to accept that it is going to be very tough and shopping centres and retail parks will lose more tenants. From our point of view, we specialise in asset management for shopping centres that have difficulties and that are looking for recovery and for repositioning. So we expect to be busy and the situation should provide opportunities for us.
Looking back on her diverse career, Maisonrouge does not feel any sense that being a woman held her back and even her early learning experiences at Center Parcs she attributes to seasoned construction workers unimpressed with her youthful inexperience, rather than her gender.
For me it made me want to be better. I think you have to approach things by being humble, and admitting what you don't know, and working hard. That's how you earn respect.
Read about 21 women leaders in retail in this article, and also an interview with Erika Le Noan, Dammann Frères.