At its most basic, retail merchandising refers to the process that a retailer uses to present products. This presentation aims to generate sales. Retail merchandisers use a variety of tactics, such as display organization and signage, to draw consumers' attention and encourage them to make a purchase. However, these strategies go beyond simple shelving and racks. A store's scent, lighting, and layout also play an important role in a retailer's merchandising strategy.
Retail merchandising is therefore an important part of any business's marketing strategy. Companies that employ good merchandising in their stores see increases in important metrics like sales and customer service. These techniques can also help your locations make the most of their space and product. The following content will provide you with some of the reasons why merchandising is a critical element of your retail business.
Boost your Customer Satisfaction
Good retail merchandising aims to provide customers with a pleasing shopping experience. Naturally, this can translate into increased consumer satisfaction. At a minimum, your store should be neat and organized. Customers should be able to easily find the product that they need, and you should have sufficient signage to direct them. Big box retailers like Target are excellent examples of signage and organization. These massive businesses use grouped products, clear aisles, and directional signs to ensure consumers can find the products they need. Customers will appreciate a streamlined shopping experience that allows them to easily find items.
To further enhance your customer service, you can add merchandising elements that increase their comfort. A small seating area by fitting rooms, for example, will allow customers to rest while they wait. Similarly, a pet store might include relief areas and water bowls as thoughtful touches for owners who bring their animals to shop. Small niceties like light fragrances, attractive lighting, and wide aisles are also ways to increase customers' comfort as they shop in your store.
Up In-Store Shopping Time
One of the goals of retail merchandising is to subtly direct customers. When people enter your business, you should guide them to view your displays using visual and spatial cues. With retail merchandising, you use signage, displays, and floorplans to guide shoppers through your business. You can therefore use these elements to maximize the time that they spend in your store. Your layout can funnel traffic in a pattern that takes them past every display. Then, you can use visual cues like signage to attract consumers' eyes to each of your displays. These strategies will encourage people to spend more time browsing your product.
Merchandisers also use interactive displays to increase in-store shop time. Apple, for example, places its latest laptops, smartphones, and tablets on tables, allowing shoppers to use the technology before they buy it. Similarly, cosmetics stores offer samples to customers before they make a purchase. These types of interactions not only boost sales but also encourage customers to spend time in your store testing your product.
Comfort elements will also increase the time that shoppers spend in your establishment. Lighting, for example, is one of the easiest ways to maintain shoppers comfort. Intense fluorescent lighting will hurt shoppers' eyes, but if your store is too dark, then they may feel uncomfortable. You should therefore opt for moderate lighting. In some sectors, you can add additional features to your stores to increase shoppers' comfort. A children's clothing store, for example, can offer a play area for kids that helps parents calm them down during a busy shopping trip. These extra features will make your store a relaxing place to shop, thereby increasing the time people want to spend there.
Maximize your Space
What takes up the most space in your store? The answer is likely product. Storage is always a challenge for retailers, but retail merchandising offers a solution. By staging your stock in attractive displays, you can use it as both a storage and marketing strategy. This will help you clear out overcrowded stockrooms while enhancing the overall appearance of your store.
Luxury, technology, and furniture retailers use a different approach. They place single items in a showroom or series of interactive displays, keeping their stock tightly organized in the back. This method is effective for retailers in certain segments because it allows users to fully experience their product without creating an overcrowded environment. Additionally, for stores that sell high-value items, it offers an increased sense of security.
Visual merchandising can also help you overcome difficulties with supply chain management. As shipping disruptions continue to plague retailers, you need to come up with creative ways to mitigate shortages. If your stock is running low, you can rearrange your shelves or displays to appear more full. This will lessen the visual impact of low inventory on customers, improving their perception of your business.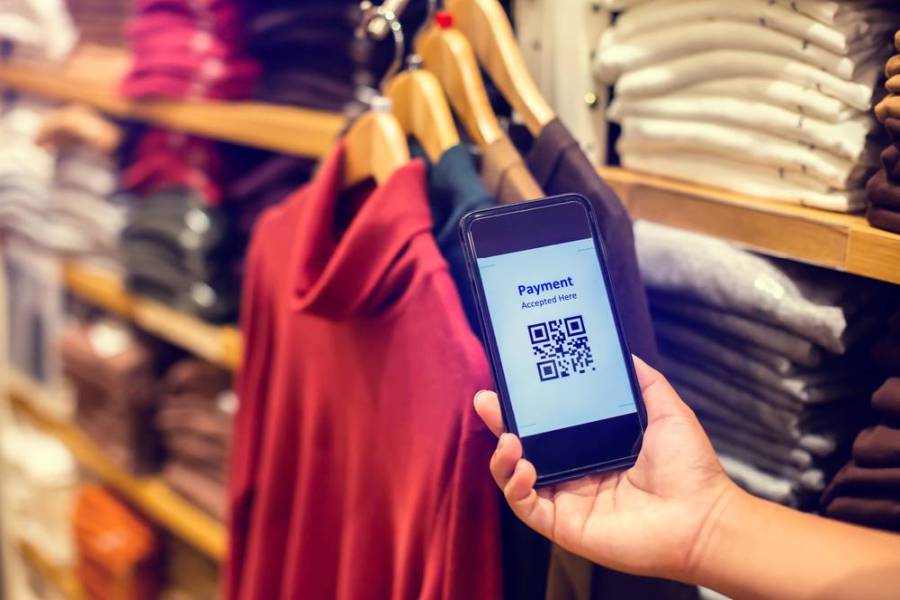 Use Online Merchandising
Your business should also apply retail merchandising strategies to your e-commerce platform. Instead of a physical store, you will design your website to strategically promote merchandise, funnel consumer traffic, and enhance visual perception of your brand. On the front page of your online store, you can promote new items and special offers using attractive images and eye-catching designs. This entices customers to begin browsing. Once your customers start looking through your website, you can use elements like recommended items to encourage them to continue shopping. For shoppers looking for specific items, you should include clear sections and a search tool. Applying retail merchandising to your digital space can help you create an attractive online shopping experience.
Increase your Revenue
When you apply visual merchandising strategies to your business, you will see an increase in sales over time. Stores that are visually appealing will attract and retain more buyers, leading to increased traffic. Additionally, when you stage your products strategically and guide consumers to displays, you ensure that they see all of your merchandise. As you merchandise your store, you can use these tactics to promote your product and boost average sales.
Retail merchandising also boosts other metrics that contribute to sales. Customer satisfaction, for example, is one of the most important elements of sales. If a customer is satisfied with your business, then they will return to buy more. On top of that, they may write a good review online, or they might tell their friends about your product. So, by using retail merchandising to elevate customer experiences, you will also increase sales. Other benefits, such as increased in-store shopping time, also have the added bonus of boosting your revenue. Retail merchandising should therefore be a core element of any successful sales strategy.
For more information, please refer to the following pages: