Tiphaine Bannelier-Sudérie describes herself as an increasingly conscious consumer and a person convinced of the need to proactively promote inclusion in the workplace. These are themes that she has both followed and have followed her throughout a varied communications career, she reflects, all of which has seen her arrive quite recently at global beauty retailer Sephora. The other theme is 'purpose', which she sees as intrinsic in defining businesses for a complicated modern age.
Bannelier-Sudérie started her career with a stint at well-known communications agency FTI Consulting, from where she moved on to McKinsey & Company. Both were influential. Mentored by Nina Mitz at FTI, who she describes as the first person to help develop her career path, Bannelier-Sudérie says she first really became conscious of diversity and inclusion with the latter business.
At McKinsey & Company, Sandrine Devillard helped shape her view of gender diversity and the impact of diversity of leadership styles in terms of performance for companies and institutions. She also cites Cécile Kossoff – "an incredible mentor" – who is currently global head of marketing and communications at Mazars. It is also where she developed a passion for the consumer and retail industry.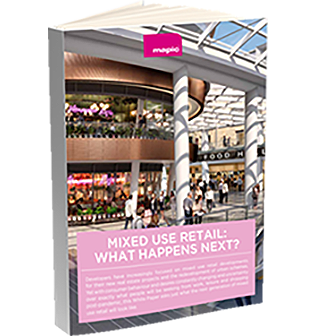 Mixed use retail and leisure: What happens next? – White Paper
Learn about the retail industry's latest data, developments, innovations and projections in our last white paper
"I was at McKinsey during a time when there was a huge shift in the retail and consumer good sectors, especially with digital transformation. I came to see that technology is agnostic, it does not mean anything unless it is harnessed for people," she says.
That approach and mind-set helped shape and inform her views on how businesses could use their position as a vehicle to both embrace change, and advance pressing social issues such as diversity and equality, topics that are major commitments for Sephora.
From retail real estate to retail
Before she joined the international beauty retailer, she spent just over two years at Unibail-Rodamco-Westfield, joining just as the Unibail-Rodamco and Westfield businesses came together. The creation of that huge shopping real estate empire, plus the increasing pressures on the retail and mall sectors provided her with an opportunity to see at first-hand how change works in action.
It also became apparent that it was time for corporations to develop and hold a point of view. She identifies this as one of the biggest changes she has seen in terms of corporate communications over the past decade.
"It has become clear to me that the actions in my personal and work life have really influenced my feelings about consumption" she says. "As someone who has been increasingly conscious about my own consumption and my family's environmental impact, I had to ask myself if I felt comfortable in these retail and consumer roles."
Her conclusion was that the industry is in transition – "People are not going to stop consuming," and many consumer goods and retail companies have taken very concrete actions to improve their environmental and social impact – and that her remit provides an opportunity to help promote positive change and progress. Bannelier-Sudérie stresses that communications roles have changed, no longer focused solely on broadcasting corporate information but now intrinsic in influencing the internal direction and priorities of companies.
Women in retail: Inclusion and diversity
One of those priorities is diversity. While she concedes that during her working life she has seen the reality of the glass ceiling and experienced being a lone woman in male-dominated environments, she is keen to stress that she believes that creating more equitable corporate environments is about far more than closing the gender gap.
Inclusion is not about introducing measures simply for the benefit of one group, she says. It is about making sure that all leadership styles can thrive, whatever the gender, background, origin or disabilities, and to remove barriers. In the end, what benefits women should benefit everyone, she adds.
And a whole ecosystem needs to be in place, starting from top leadership commitment, addressing biases and behaviours, and practical actions such as mentoring, training and management programmes that help create a pipeline of next generation leaders from more diverse backgrounds.
"If you don't take these actions, you won't see change," she says. "It's also about balance, also creating systems that make it easier for people to work while, for example, having a family, or if they need to take care of an older family member."
Sephora committed to rebalancing business
Sephora, says Bannelier-Sudérie, is a very committed company and the themes around inclusion are issues that "have followed me in my work, and also in my life". She believes that the past 12 months have made both retailers and consumers even more receptive to understanding these topics.
In terms of the industry shifts, she adds:
"Too much has happened for things to simply return to normal. There has been a paradigm change. There will be a rebalancing of the digital and physical experience. Digital is here to stay. And stores are here to stay. But how these work separately and together has changed and will continue to change."
It all comes back to purpose, because having purpose provides a fundamental pillar that does not change: this matters for employees, and for customers.  It's a guiding principle and "something you can rely on" she says.
The past year has been very weird, but it has reinforced my beliefs in what is important and about society's rethinking of values. If we can translate that into actions, then I'm hopeful that many of those values will stay, she concludes.
Read other women's stories in our articles Women in retail: 21 leaders in 2021, read an interview with Erika le Noan from Dammann Frères, with Cindy Andersen from Ingka Centres, with Manuela Calhau from Sonae Sierra, and with Anne-Sophie Maisonrouge from Terranae.