Gamze Cizreli, founding partner and chair of the board at BigChefs, started her working life in 1991 in Ankara after graduating from Middle East Technical University. She worked in the defence industry for three years but recalls that having grown up in a "deep food culture on long tables", she had been dreaming of going into the restaurant business since her childhood and decided to change career paths.
"In order to learn the dynamics of the restaurant business, I started working in a restaurant as a part time waitress. After being sure, I resigned from my corporate job and in 1993, with my ex-partner, I opened a café in Ankara," says Cizreli. "We created three different concepts, which all became very successful. This continued until we decided to go in different ways in 2006. I left everything to my ex-partner and I created the first draft of BigChefs. Without any capital, my only solution was to get a loan. Being a woman entrepreneur and having no collateral or capital made it very difficult. I requested a loan from various banks, for about a year, and finally BigChefs started to take its first steps as a women's enterprise established with 100% of bank loans."
BigChefs was successful from the start, hosting thousands of people every day, paying off its debts, signing new agreements and opening new branches. In 2014, it launched its first overseas restaurant in Dubai.
"Saruhan Tan, executive board member of Turkey's famous department store chain YKM, was my first partner when I came to Istanbul from Ankara," she says. "In 2016, we made another partnership with private equity fund Taxim Capital, which operates the EBRD and IFC [financial]resources in Turkey."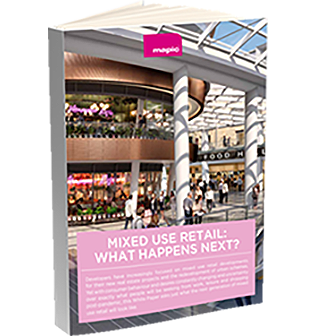 Mixed use retail and leisure: What happens next? – White Paper
Learn about the retail industry's latest data, developments, innovations and projections in our last white paper
BigChefs today has become a restaurant chain of 70 branches and more than 3,000 employees across seven countries and welcomes eight million guests every year.
It is a women's initiative that has been successful despite all the difficulties, says Cizreli.
Actions to close the gender gap
"As we all know, unfortunately women and men cannot benefit equally from the rights that need to be developed in line with the principle of equality in education, health, employment, security and social life", says Cizreli. "Additionally, the gender gap in wages is growing steadily."
All these things put women in a disadvantageous position in many aspects of business life. In our country, despite the recent efforts to increase women's employment through entrepreneurship and flexible working, women's employment is still far behind, she says.
According to data from the Turkish Statistics Institute, in June 2020 the labour force participation rate was about 32% among women, and 68.2% for men. According to the International Labour Organisation, the Covid-19 period has taken Turkey's female labour force back 20 years.
"As BigChefs, we started a project called 'From Women Farmers to Table' in 2018 to source our products from the rural women producers/farmers for gender equality," says Cizreli. "Our project started with 14 women and today it has reached 120 women. Our initiative has made such an impact that it was selected for the United Nations Business Call to Action programme."
Looking beyond the pandemic
"During 2019 our sector achieved revenues at the height of around €15bn, while in 2020 the entire business sector shrunk by almost 50% and closed the year with a revenue loss year over year of €6.6bn," says Cizreli. "This is an extremely dramatic situation."
She believes this has also caused radical changes. The digital customer base has expanded considerably. Sustainably operating restaurants, which managed to attract clients via multiple channels, will have a competitive advantage as soon as current limitations will be lifted, she stresses.
"While creating our plans for the future, digitalisation is an important part of our sustainable growth strategy," she adds.
"In Turkey, we were able to re-open our restaurants with some operational limitations. As soon as we re-opened, we were able to welcome a much higher number of guests than we were expecting," she says, adding that BigChefs has had to close its restaurants for about half of the past 12 months. "Even though the current social distancing rules have changed the dining experience, it's still not about nutrition only, it's also about socialising and being together. While the base of our digital customers has increased over the recent period, the experience of socialising in restaurants remains a major desire."
As a result, BigChefs has further developed its alternative sales and marketing channels in order to reach guests via multiple channels, with the focus on digitalisation enabling the business to provide catering as well as home delivery services.
"With Yemek Sepeti, one of the frontrunners in Turkey, we initiated home delivery services from 28 locations. On top of this, we're collaborating with the expanding international brand Getir. Here we focus on delivering selected special BigChefs Gastro products like BigChefs signature sauces, vegan schnitzel and thyme falafel to our customers in order to create a unique cooking experience in their own kitchen," she says. "Furthermore, we launched the 'ghost kitchen' project in collaboration with hypermarket chain Migros, expanding from one pilot location to 55 locations."
Read other women's stories in our articles Women in retail: 21 leaders in 2021, read an interview with Erika Le Noan from Dammann Frères, with Cindy Andersen from Ingka Centres, with Manuela Calhau from Sonae Sierra, and with Anne-Sophie Maisonrouge from Terranae.