Momentum has built behind the movement to increase gender diversity in the workplace and representation for women in retail and women in retail real estate.
Recognising this, MAPIC and LeisurUp Digital started with an all-female panel for our first virtual event, held in November 2020. As one of those panellists – Joanna Fisher, managing director centre management and designated CEO marketplaces, ECE – said: "Have no doubts, be focused on yourself and be a woman. It's ok to have emotions, act as a woman and stay as one, feel your emotions."
While many of the companies that participate at MAPIC have programmes in place to encourage better gender diversity and gender balance in the workplace and especially in senior management position for female leaders, it is not always easy to know where to begin this process. The following are a number of organisations which may be able to help your company with gender balance. The list is by no means exhaustive and we welcome further suggestions on resources to add.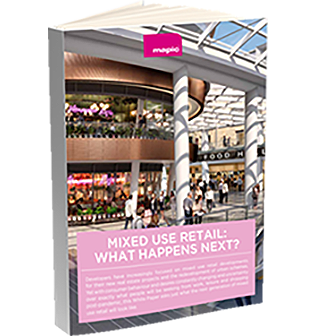 Mixed use retail and leisure: What happens next? – White Paper
Learn about the retail industry's latest data, developments, innovations and projections in our last white paper
Gender diversity in the workplace: Gender balance organisations
Real Estate Balance was formed in 2015 to address gender balance at senior levels in real estate businesses. Managing director Sue Brown will be well known to many MAPIC and MIPIM attendees.
The organisation says: "We have a target of 50% representation of women on boards in our sights, but we have now broadened our scope to embrace broader diversity and inclusion objectives. We work with industry leaders and senior leadership teams, supporting them in driving cultural change within their businesses and identifying best practice which we can share across our membership, contributing to the enhanced performance of the industry as a whole.
"Through our campaigning and other activities like our events programme, toolkit and publications, we facilitate and enable our members to make real progress towards achieving diverse cultures in their own organisations. A key part of our focus is working with younger members of the real estate industry to create an improved supply chain of talent. We also work alongside other campaigning bodies in, or close to, our industry, to celebrate and promote diversity."
Real Estate Women is a global network, connecting real estate professionals to create a more "equitable, inclusive and resilient built environment", according to Maria Wiedner, CEO of RE:Women.
Wiedner founded the RE:Women network in December 2012 as she saw the need to gather the real estate community and discuss gender equality in the industry. She is a CFA Charterholder and graduate from the University of Cambridge with a Masters in Real Estate Finance in 2011. Following a successful career in property funds analysis and consulting, she set up the Cambridge Finance – School of Applied Real Estate Finance – in January 2016.
US-based Women in Retail Leadership Circle (WIRLC) came about after co-founders Jennifer DiPasquale and Melissa Campanelli spent a lot of time conversing with female retail leaders in the industry. They regularly heard stories that while there are a lot of women working in the retail space, the number of women in the C-suite is actually dwindling. Before launching WIRLC, however, they tested the idea with their first annual Women in Retail Leadership Summit, which launched in the spring of 2014 and from there decided to move ahead with the idea, and thus, WIRLC was born.
Women Talk Real Estate was established to offer a practical solution to increase the visibility of women in the industry. It connects female professionals with speaking and press opportunities and offers tailored training for women on all aspects of building a successful stage and media presence.
The organisation says: "We believe that visibility matters. For the individual, it brings about better business opportunities and career progression, and it also challenges stereotypes and provides role models for the benefit of the whole industry. We are a non-profit organisation helping the industry work together on improving gender diversity. We are funded through industry sponsorship, which enables us to offer our online network as a free service to our speakers, as well as to event organisers and the media.
Andrea Carpenter is a director of Women Talk Real Estate, and a MIPIM and MAPIC regular. She began her career as a journalist with Property Week and EuroProperty before working for various industry bodies including the Urban Land Institute, INREV in Amsterdam, and its sister organisation ANREV in Hong Kong. On returning to the UK, she worked as head of marketing and communications EMEA at CBRE Global Investors.
Not specifically a retail or real estate organisation, Women on Boards exists to support its members into the boardroom and promote an inclusive culture.
It says: "We are a network of 30,000 women, and some men, who are starting and shaping their board careers. The network includes those with all levels of board experience, across all sectors and professional disciplines. Our Ambassadors, most of whom are highly experienced NEDs, offer particular insight and connections to support our work.
"We are there to support you, to encourage you, to offer you honest and helpful advice. Our support is practical, delivered with a genuine personal touch. What we do works – on average seven members secure a new board role each week."
Another general business movement, The 30% Club "believes that gender balance on boards and in senior management not only encourages better leadership and governance, but diversity and inclusion further contribute to better all-round board performance, and ultimately increased corporate performance for both companies and their shareholders. Diversity and the fostering of inclusive workplaces also plays an important role in increasing innovation, attracting and retaining talent, and enhancing reputation and brand."
Its global mission is to reach at least 30% representation of all women on all boards and C-suites globally.
"The 30% Club aims to develop a diverse pool of talent for all businesses through the efforts of its Chair and CEO members who are committed to better gender balance at senior levels and throughout their organisations. Business leadership is key to our mission, taking the issue beyond a specialist diversity effort and integrating it into enterprise-wide strategy development."
Read other women's stories in our articles Women in retail: 21 leaders in 2021, read an interview with Erika Le Noan from Dammann Frères, with Cindy Andersen from Ingka Centres, with Manuela Calhau from Sonae Sierra, with Anne-Sophie Maisonrouge from Terranae, with Tiphaine Bannelier-Sudérie from Sephora, and with Gamze Cizreli from BigChefs.