It was the search for what she describes as a "proper job" that took Fri Forjindam on the path to becoming chief development officer and executive creative director at California-based Mycotoo.
A passion for the performing arts had seen Forjindam working in a variety of roles in the entertainment industry after studying for a Masters in Theatre, School of the Arts, at Columbia University, New York. She took a step out of that business to take up an administrative job at Los Angeles-based Thinkwell Group, at which point the global experience design and production agency's roster of theme parks and entertainment venues opened up a new world for her.
"I guess I had just thought of theme parks as the Imagineers at Disney," she recalls. "Sitting in on meetings was really eye-opening as I started to see that this industry was about story tellers and problem solvers. It was transformative."
Given opportunities to take on small projects by the business under the auspices of Clifford Warner, who she would later join at Mycotoo "as employee number one", she says that the opportunity to listen and learn meant she saw the levels of strategy and forward-thinking required to create new entertainment concepts.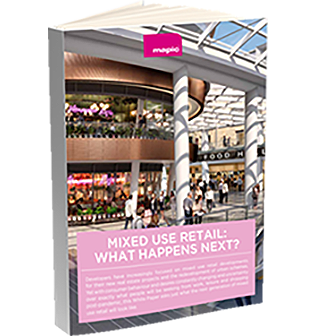 Mixed use retail and leisure: What happens next? – White Paper
Learn about the retail industry's latest data, developments, innovations and projections in our last white paper
Warner, who established Mycotoo, brought her to his new business, where she felt that the "notion of developing and being able to grow at a new company" enticed her to the role. Indeed, moving around has hardly been a challenge for her: born in Douala, Cameroon, where she spent her early childhood before immigrating to New Orleans, Louisiana, when she was 14 years old, Forjindam received her Bachelor's degree in Biology from the University of Virginia, her Masters in New York and now resides in Los Angeles (Mycotoo's offices are in California and Barcelona).
Leisure and entertainment sectors evolve
Mycotoo itself is an international business, with projects worldwide including studio theme parks (Motiongate and Bollywood Parks) and award-winning brand experiences (HBO's SxSWestworld for which Mycotoo was awarded top prizes for Clio and Cannes Lions Gold; HBO's Bleed For The Throne; and Netflix's The Irishman Little Italy Takeover). Forjindam has also collaborated as a creative director for a variety of global attractions including Bollywood Parks (Dubai) and Prince's Paisley Park Experience (Minneapolis); as producer on T-Mobile HTC's North American corporate tours and many more.
In her current role, Forjindam focuses on driving business development, branding and communications across Mycotoo's global network and, while the company's heritage is in the entertainment world, she foresees increasing involvement in different types of spaces, including retail, mixed use and event destinations.
We're coming to the point where venues are starting to prepare to welcome visitors again and I see our role as bridging that gap between entertainment and these other commercial spaces. Obviously these have all been deeply impacted by the pandemic and I believe that we'll see a fresh perspective in terms of consumer demand and the desire for experience, she says.
Retail and entertainment in a changed world
The first thing Forjindam stresses is that venues will be opening to a changed world, which will not return to the previous norms or values. "Many of the restrictions are for the long-term and expectations for safety and health regulations will stay with us, as will the need to handle visitor circulation securely," she says. "So we need to work out how we keep telling those stories. Many destinations are thinking well ahead and I think the real change we'll see is in the calibre of what's on offer. We might well experience another roaring 20s but the solutions will need to be different and authentic."
Forjindam also feels that these experiences will need to be deeper than "pop-ups or Instagram moments" and that the new age of engagement will be about forging much stronger and deeper connections with visitors and customers. She points out that entertainment can bring activity and animation to all sorts of commercial spaces and also to cities and municipalities, which she feels are increasingly recognising that they need to do more to differentiate themselves.
"Ultimately, entertainment is a marketing tool for all types of venues and my hope is that we will see much more interesting solutions that have a deeper narrative. You only have to look at projects like American Dream and Area 15 [both in the US]  that have entertainment and leisure as part of their DNA," says Forjindam.
Diversity also remains at the heart of Forjindam's personal development and that of the business. In recruitment, she favours skill sets combined with the ability to learn and, at times when Mycotoo has had to rapidly engage and deploy large teams, has been able to draw from the wide range of cultural and industry backgrounds in Los Angeles.
That brings a wide range of perspectives, which is really important for the business. What you need to do is avoid the same old, same old. We can see from our worldwide projects how important it is to understand different cultures and audiences and to be authentic. It's not about it being good for PR, diversity is about doing what's good for the business, she says.
Read other women's stories in our articles Women in retail: 21 leaders in 2021, read an interview with Erika Le Noan from Dammann Frères, with Cindy Andersen from Ingka Centres, with Manuela Calhau from Sonae Sierra, with Anne-Sophie Maisonrouge from Terranae, with Tiphaine Bannelier-Sudérie from Sephora, and with Gamze Cizreli from Big Chefs.